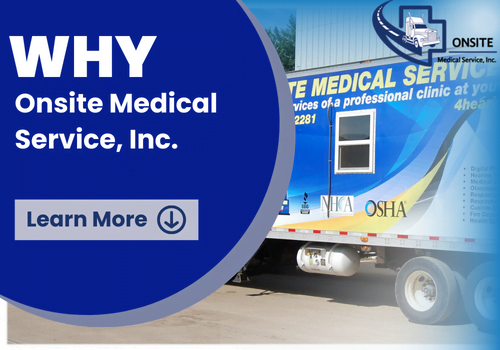 Have you been trying to figure out if your company could benefit from onsite hearing testing verses sending your employees to the clinic? If so, then you may be pleased to find out that there are some really nice reasons to consider turning to onsite hearing testing verses appointments at the clinic. Not only is it more convenient for your company and your employees, it is also easier to schedule so you can keep track of how everyone is doing. We understand the more convenient the service is, the more likely you are to be able to use it year after year!
Why You Should Consider Onsite Hearing Testing by Onsite Medical Services?
Onsite Medical Service saves you valuable time and money by bringing all the services of a professional clinic to your curbside in a state of the art mobile medical van. Your employees will notice the difference!
At Onsite Medical Service our mission is to exceed our customers expectations with the quality of the on-site testing experience and the 24/7 commitment to service you can count on from a family owned small business.
OSHA recommends that each employee exposed to loud noises be tested annually to ensure their job is not negatively affecting their health. This is not always easy when you have a large company, since there would be a large number of tests to track. If you hire Onsite Medical Services based out of Delano Minnesota  then you can track all of the tests with one company and in one place. Plus, instead of buying expensive audiometric equipment that requires annual calibrations you leave it all to Onsite Medical Service. This ensures you get the most accurate results. The process by which Onsite Medical Service provides hearing testing in Minnesota and Wisconsin ensures that there are very minimal disruptions in production.
If you have not recently done hearing tests on your employees it may be time to start. Turn it over to Onsite Medical Service and they will keep you in compliance with OSHA's regulations. Having the option of onsite hearing testing on-site in Wisconsin and Minnesota, means you have the ability to keep all of your employees up to date and in compliance. Do not put off getting each of your employee's tested. Turn to the experienced professionals at Onsite Medical Services, Inc., today, and know that the hearing of each of your employee's is being monitored.