About Onsite Medical Testing by Onsite Medical Service, Inc

Our Fleet of Medical Trailers Makes All The Difference!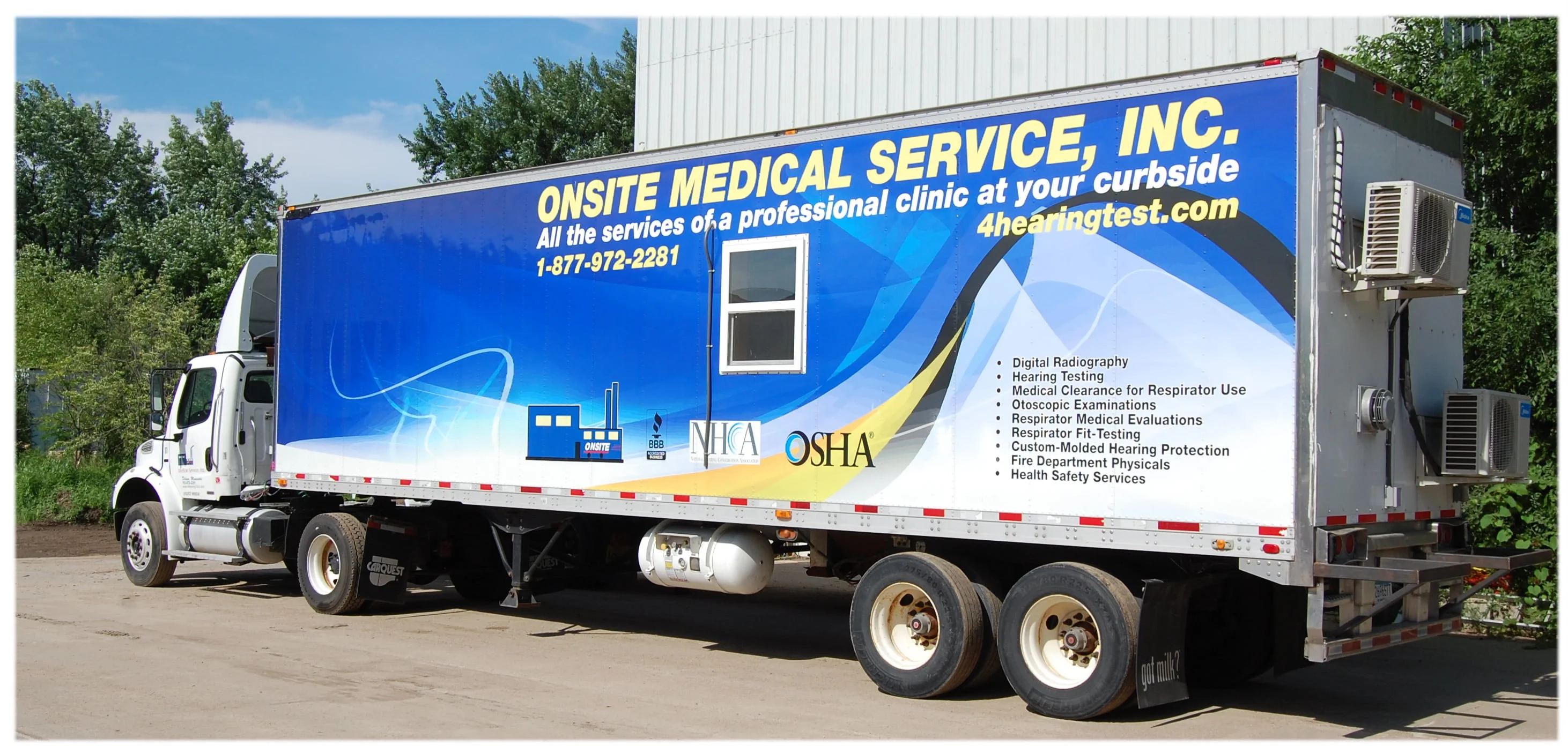 Beginning in 2001 we started with one trailer.  Now providing onsite testing and training services to over 1,200 manufacturing, government and health care clients in 20 states with 8 testing units.
Each mobile van carries a second computer system and backup audiometers to maintain the schedule in the event of equipment failure.
Acoustic foam absorbs and reduces unwanted noise.
Metal stud framing with double-wall OSB board and vinyl loaded mass barriers were key in the construction of our vans. These products ensure outside and unwanted noise are reduced.
Our Commitment To You Partnering with us means…
Staying within your budget restraints.
Ensuring your programs are in compliance at all times.
Providing a professional testing experience that reflects well on your company.
Enjoyable testing experience with patient and professional technicians.
Having very minimal disruptions to your production schedule.
Offering the most accurate testing available.
Documentation including clear concise reports in the event of an audit.
Encouraging a safety-first culture. 
Highest Quality Onsite Medical Testing:
Ability to view past audio data while current testing is in progress.

State-of-the-art, industrial audiometric equipment and software.

CAOHC certified technicians.

95% customer retention rate since start in 2001.

Outstanding attention to detail from scheduling to the final report.

Comfortable setting for your employees:

 Individual sound booths and individual attention.

 A quality testing environment equals less standard threshold shifts.

 Professional review by a doctor of Audiology or Medicine.
Client Testimonial:
I want to take the time to thank you and your staff at Onsite Medical Service Inc. for conducting our annual Hearing Exams, Pulmonary Function Tests and Respirator fit testing. For the past three years your company has been a valuable asset to us.
In the past we have conducted all the Hearing exams and Respirator fit tests internally and it was a very time consuming process. Since we have switched to your services it has greatly reduced the back log of work caused by the testing process.
Your employees are very knowledgeable and a pleasure to work with.
I have been impressed with all the documentation that we receive back from you after all the testing is complete.
I look forward to using your service every year. I would and have recommend Onsite Medical Service Inc. to others businesses.
Thanks for the help and look forward to seeing you next year.
Mark Schulman
Safety Supervisor
American Axle& MFG